Coming Soon to STAR WARS: The Old Republic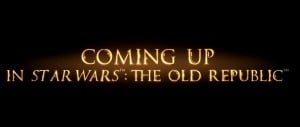 Yesterday we updated you on what to expect with Patch 1.3 which will be titled " Allies". Today, same day as BioWare goes public with there layoffs, BioWare  get a small video with a patch Overview.
See what the future holds for Star Wars™: The Old Republic™, as Game Director James Ohlen highlights some of the new game systems coming in Game Update 1.3, as well as some of the playable content that will be released in the coming months. In this 'Coming Up' video, you will learn about the new Group Finder and Character Transfer systems, as well as new Legacy Perks and other features that are coming in the next Game Update, Allies.
Side note. I feel bad for him having to read off those scripts. They need to give their developers time to read over scripts before putting them in front of a camera. It makes them sound like William Shatner: "And…the new…features coming in…this great patch…1.3…called Allies…are really…awesome."
Around the Web